Bay Area Summer Events 8/12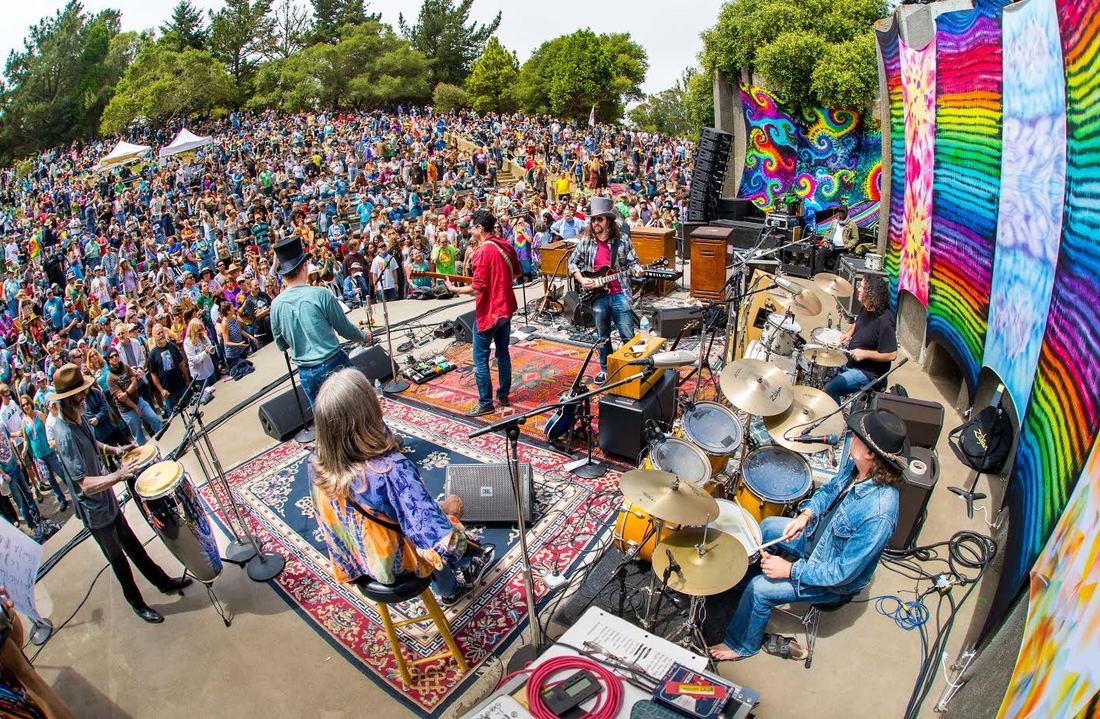 Travel back in time this weekend, to the Summer of Love in San Francisco at the Jerry Day concert or to the 1940s at a WWII living history event and swing dance in San Jose. Or stay in the present with the San Jose Jazz Summerfest in San Jose or a choice of chocolate and chalk art in Berkeley or the Laurel World Music Festival in Oakland. Read on for more details.
Always check event details, weather forecasts and safety guidelines. Submit event tips at hoodline.com/tips/.
Free Jerry Day Concert in San Francisco
Relive the days when going to San Francisco meant wearing flowers in your hair, not AirPods in your ears, at the 20th anniversary (wow!) of Jerry Day Saturday, the free concert celebrating the San Francisco native and founding member of the Grateful Dead, Jerry Garcia. Live bands will perform classic Dead songs and Dead-inspired music in the amphitheater named after the legendary musician from his childhood neighborhood, the Excelsior. (Parking will be limited; keep driving, but consider public transportation to get to the show.)
And that's just the beginning. Jerry Day will be followed by Jerry Night, not to mention a pre-party Friday. Get details about the show and related events at www.jerryday.org/events.
When: Saturday August 13; doors open at 11 a.m.
Where: Jerry Garcia Amphitheater, McLaren Park, 40 John F Shelley Drive, San Francisco
Information: www.jerryday.org
Oakland Laurel Street Fair World Music Festival
This long-running street fair is finally back from pandemic hiatus for its 21st episode, promising plenty of fun for all ages. There will be live entertainment on two stages, a dance floor, children's carnival, craft beer garden, barbecue tasting and plenty of food, retail, artisan and purpose vendors. non-profit. It draws around 15,000 attendees on MacArthur Boulevard in Oakland, so parking can get tricky. Consider public transit instead: nearby options include AC Transit lines 14, 54, 57, and NL, and the fair is about two miles from the Fruitvale BART station.
The lounge is free, but all guests who register through EventBrite will be entered to win prizes such as t-shirts, commemorative glasses or a case of Tequila Blanco tequila (provided they are over 21).
When: Saturday, August 13, 11 a.m. to 7 p.m.
Where: 35th Avenue and MacArthur Boulevard, Oakland
Information: www.laureldistrictassociation.org/info
San Jose Summer Jazz Festival
The San Jose Jazz Summer Fest returns for its 32nd festival season this weekend with nearly 100 acts over three days on 12 stages in and around César Chavez' Plaza Park in downtown San Jose. Programming includes a mix of genres ranging from jazz, funk, R&B, Latin, soul, hip-hop, blues, swing, zydeco and world music. A day pass to the Main Stage and other outdoor stages is just $35 ($10 for kids ages 5-12), and tickets go up from there. you can get a three-day adult pass for all stages for $150.
When: Friday August 12 to Sunday August 14
Where: Plaza de César Chavez Park, San José
Information: summerfest.sanjosejazz.org
Berkeley Chocolate and Chalk Art Festival
At this beautiful event, attendees are assigned a sidewalk area along Shattuck in North Berkeley to decorate with their own chalk art. This year's theme is "Chalking Beautiful Music". Families or groups can work together, or artists can work alone. When you need a break from creating (or admiring) art, you can indulge in chocolate tastings for $1/ticket (available at event booths at 1451, 1495, or 1601 Shattuck Ave. on day of the event or in advance on EventBrite). You'll also find crafts, food trucks, beer, wine, jazz musicians, jugglers and dancers along the blocks between Rose and Vine streets.
There will be a chalk art contest for the best drawing after 4 p.m. The top three winners will receive cash prizes ($150/$100/$50), while the 10 runners-up will receive $25 gift certificates to Books, Inc. Pre-register on Eventbrite or register online. no one on Saturday at the event booths at Shattuck & Vine or Shattuck & Cedar, where you can pick up boxes of artists' chalk if you need them: $10 cash for 24 pieces or $20 for 48 pieces.
When: Saturday, August 13, 10 a.m. to 5 p.m.
Where: Shattuck Ave. between Rose and Vine streets, Berkeley
Information: www.anotherbullwinkelshow.com/chocolate-chalk-art/
Spirit of '45: Living History Day and Swing Dance Party in San Jose
San Jose's 14-acre historic park will be transported back to the 1940s on Saturday with an event capturing the experience of war and the home front of World War II. There will be vintage music, a vintage car display, a WWII tent city, a 1945-style victory parade, exhibits and interactive activities for all ages, children's games and 1940s food trucks – all followed by a grand 18-piece orchestra concert and swing dancing in the evening. Period attire is encouraged.
General admission to the event plus swing dancing is $25; Admission just to the main event is $10 for general admission, $8 for seniors, $5 for children ages 6-11 (under 6s are free), and free for veterans from World War II, Rosies and active duty military; just the swing dance is $20 for general admission.
When: Saturday, August 13, Living History Day from 3 p.m. to 6 p.m.; Big Band Concert & Swing Dance 7pm-10pm
Where: 635 Phelan Avenue, San Jose
Information: historysanjose.org