Fountain Lake eyes revenge in 8-a-side championship game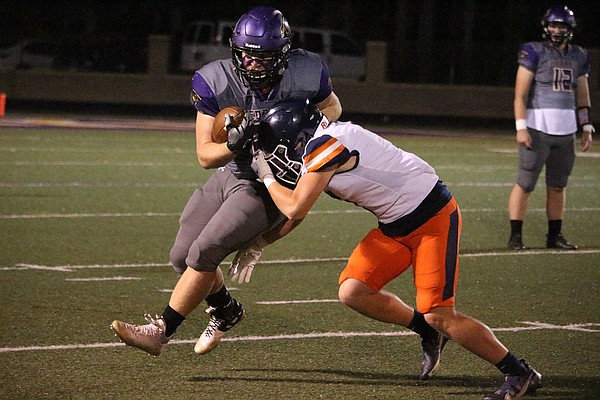 FOUNTAIN LAKE — A state title and a rematch are on the line tonight for Fountain Lake.
The Cobras (7-2) will make the long trip to Mountain View in an effort to avenge an Oct. 30-27 loss to the Yellowjackets, and this time the contest will be for the Club Division state title. at 8.
Fountain Lake made the difficult decision to switch to 8-a-side football over the summer after low rosters decimated the program, and now the Cobras have a shot at a championship in their first year of the new style of football.
"That means everything," Fountain Lake head coach Kenny Shelton said. "These kids have been through ups and downs throughout their careers. Looking back at where we were at the end of last year and seeing how far we've come, we couldn't be more proud that these kids are playing. for the state championship and be the best team in 8-a-side football."
The Cobras defeated Subiaco Academy 41-20 at Allen Tillery Field in the semifinals to earn a spot in the championship game.
The first time the Cobras played at Mountain View (8-0), running back Abram Davis was ruled out with an injury.
"That week we didn't have a lot of running games," Shelton said. "We got very one-dimensional in this game. We had to throw the ball a lot more. We like to be a little more balanced. They did a great job of really making us work on the throwing of the football. We came out a little flat ."
Fountain Lake started games slow at times this year and gave the Yellowjackets first two scores in the October meeting between the teams.
Video not playing? Click here https://www.youtube.com/embed/LGKvTXQheOA
"When you're up against a quality team, you can't pick out a quality two-point team and expect to come back to their turf," Shelton said. "The kids have witnessed this. They have seen this. We feel like the underdogs and we have something to prove. We are excited to go back and beat them on their home turf."
The Cobras will have to travel about three and a half hours by bus, in a regular school bus, to Mountain View. Shelton noted that the long bus ride was likely part of the reason for the slow start to Game 1 against the Yellowjackets.
"It's not nice," he said. "We've done it a few times this year. Normally you don't have these real long trips before the playoffs. But we've had a few this year. I think the kids were laser focused this week. They know what's at stake and what's at stake. I really think if we can play as well as we did last week, I have no doubt that we will win the game.
Fountain Lake wide receiver Juan Diggs has shone for the Cobras all year with electric performance. The senior has 798 receiving yards and 11 touchdown receptions to his name.
He also has 349 rushing yards, four rushing scores, three interceptions and three kickoff returns for touchdowns.
The only time Diggs has really struggled this season was on the road in Mountain View, and the Cobras need their star man to have a big game tonight to win that state title.
"We have to do a better job of getting him the ball," Shelton said. "They did a great job limiting his touches. We put in a few more wrinkles. We definitely need to get the ball in his hands. He's so dynamic and so hard to tackle in open space. They did a great job when he had the chance to touch the ball not to (let it) enter the open space."
Mountain View relies on running to win games, and Shelton said the Yellowjackets run the ball about 90% of the time.
"I think if we can come in and be the most physical team like we showed last week, if we own the line of scrimmage and frustrate them a bit, we can't give them lanes of traffic. ", did he declare. "They're very good at finding the smallest seams and creases and if we're able to restore the line of scrimmage and force them out of their comfort zone, I'm very confident we can definitely slow down their rushing attack."
Injuries have plagued Fountain Lake throughout the season, but heading into tonight's title game, it looks like the Cobras have finally shaken off the injury bug.
Shelton said his team is as healthy as it has been since week one and Fountain Lake is ready to challenge for a state championship. Kick-off is set for 6 p.m.
"Hopefully we'll have a huge turnout," Shelton said. "It's been a long time since we got to play for a state championship. Hopefully we can make our school proud and our community proud."