Heather Taylor is Innisfail's Citizen of the Year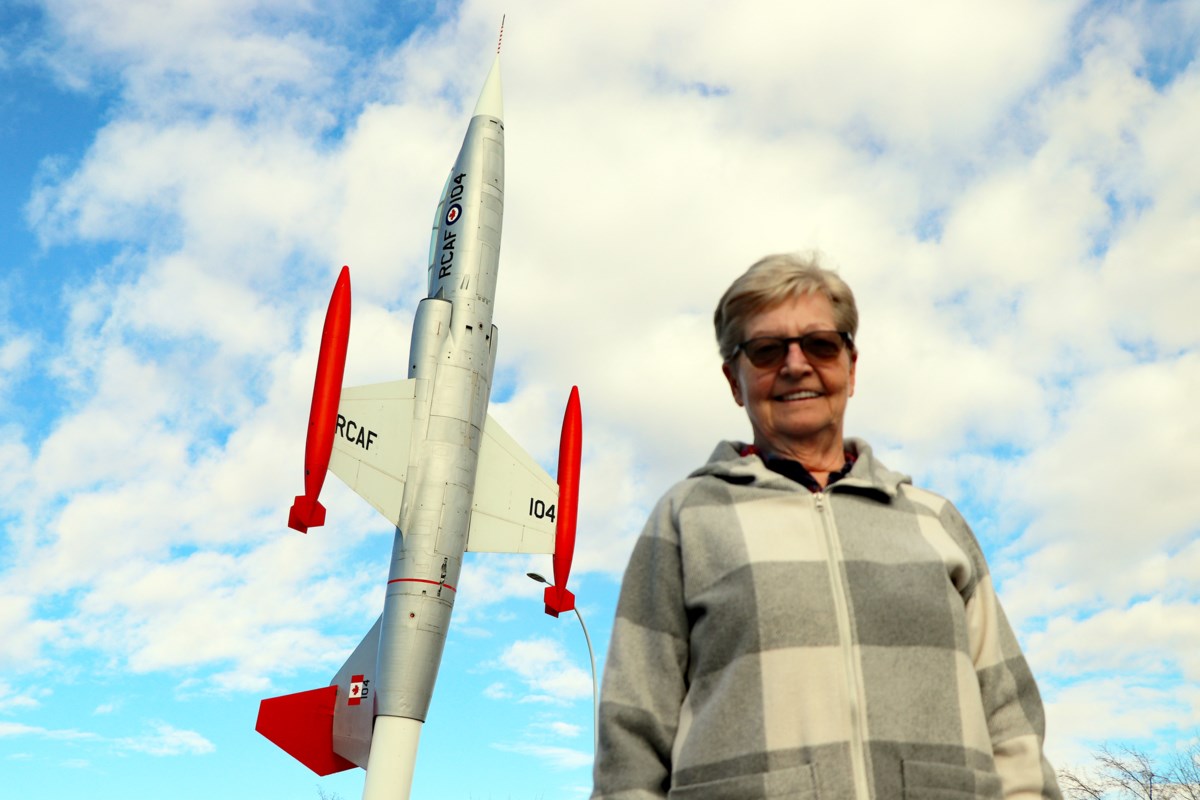 INNISFAIL – Since Heather Taylor arrived in Innisfail from British Columbia in 1977, there has never been a community service or essential project too big for her.
The town's iconic CF-104 Starfighter that has stood majestically before the Royal Canadian Legion of Innisfail since 2006 is proof of that.
Taylor was instrumental in his tireless fundraising and leadership to bring the famous military aircraft to town from Germany.
"It's no small task to bring a jet across multiple continents and an ocean to become a feature of Innisfail," said Kane Williams, the city's recreation program coordinator, noting that Taylor received a life membership in the legion for long-term commitment and service, including 10 years on the executive.
On March 28, the Town of Innisfail formally recognized Taylor on City Council for the many contributions she has made to the community over more than four decades.
She received the Citizen of the Year award during the city's unveiling of the 2021 Community Awards.
"None of the things I did could have been done alone," said Taylor, who received a standing ovation from city council, staff and members of the public. "I've formed great friendships and camaraderie through all of this effort, and enjoyed every minute. To anyone who's ever worked with me, I say, 'Thank you for pushing me and making me a better person".
Williams noted that Taylor's dedication to the community has served in many other ways as well. She was instrumental in raising $450,000 for the Community Bus.
She took part in the Literary and Poster Contest organized each year by the Legion to educate younger generations about the importance of Remembrance Day.
She volunteered tirelessly for many years at the Innisfail and District Food Bank and was always available to help and support many sports teams and other local organizations.
And from 2010 to 2017, Taylor served two terms on city council, a period that included the downtown revitalization project, the modernization of City Hall, and the opening of the library/learning center of Innisfail.
"Heather Taylor has an incredible track record of helping Innisfail. Her impact is vast," Williams said.
Taylor's award followed four others given to three local citizens and a team.
Local businessman and council member Dale Dunham has won the 2021 Community Arts and Culture Award.
"Dale is someone who epitomizes the term community builder," Williams said. "Dale works tirelessly to create, build and innovate community initiatives."
Williams noted Dunham's leadership behind the Innisfail Pride Festival, Lantern Festival and Festival of Trees – all inaugural events in 2021.
"His work with the Welcoming and Inclusive Community Committee, Anti-Bullying Initiatives and City Council all help make life easier for those in need and add to the culture of Innisfail," he said.
Athena Pare is the 2021 Leaders of Tomorrow award recipient.
"She is an example of a young Innisfailian getting out there and making a difference in our community. She is an active leader and volunteer," Williams said, noting her creation of Search for Hope at the start of the pandemic; a citywide scavenger hunt that inspired the community when citizens needed it most.
"The search for hope was inspiring, inclusive and something everyone could participate in. It made a positive difference, locally at a difficult time."
Mabel Weddell has been recognized as the 2021 Innisfail Athlete of the Year.
The 12-year-old Grade 7 student from St. Marguerite Bourgeoys Catholic School excelled last year in hockey, volleyball and cross-country.
She was one of four Grade 7 girls to make the senior volleyball team in 2021, a silver medalist at the Chinook's Edge North Athletic Association cross country final and team center in women's hockey U13 A Red Deer Sutter Fund Chiefs.
"Her love and passion for the sport not only drives her to succeed, but to make sure others around her succeed," Williams said. "Mabel has an exciting and long sporting career ahead of her, but she has established a strong foundation of integrity, work ethic and skill."
And the Innisfail Dolphins Swim Club is the recipient of the 2021 Team of the Year award.
The award, which was accepted by head coach Josh Gette, was especially deserved this year due to a sensational 2021 season that saw the Dolphins ranked 1st provincially (provincial champions).
"An incredible achievement as the club was able to beat Edmonton, Calgary and every other club in Alberta despite being allowed fewer swimmers entered due to restrictions," Williams said, noting that the club also broke 10 club records and ranked 24 of 50 registered swimmers. among the top five in the province.
"They are an incredible example of a team that has built up year after year and persevered through a particularly difficult time with the COVID-19 pandemic making it difficult to train and compete."