Men's football to start at home against University of San Francisco | Sports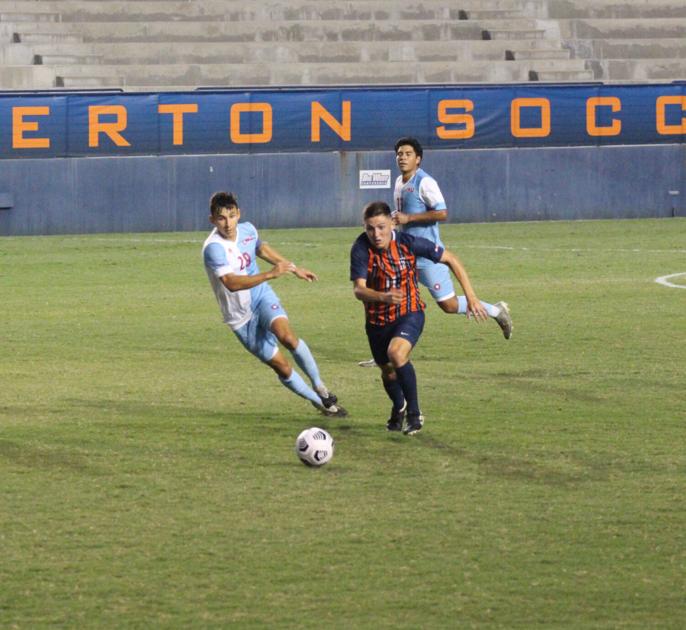 Cal State Fullerton's men's football team continue to aim for their first win of the season as they prepare to face the University of San Francisco on Friday at home.
With 12 games left in the regular season, Fullerton returns home after a two-game road trip to the Air Force Falcons and University of Denver Pioneers, where the Titans lost 3-1 and 2. -1 respectively.
Due to the COVID-19 pandemic that caused their 2020 season to be canceled, CSUF and San Francisco will face each other for the first time since 2019.
The Titans are 9-12-2 against the University of San Francisco Dons and in their last game Fullerton beat San Francisco 2-1.
Fullerton finished the 2019 season 12-7-1, with 270 shots and 27 goals scored.
However, Fullerton have started slowly this season and are winless with a 0-4-1 record. In their most recent game against the Pioneers, the Titans lost 2-1. Second-year CSUF forward Samuel Owusu slid his way into the net and scored the lone goal in the 55th minute.
The Titans have 24 shots on goal this season as they average 2.26 goals against per game.
Owusu has a total of four shots and is tied with second-year midfielder Sebastian Cruz for most team goals with two.
Despite the loss to Denver, CSUF have had an offensive presence with 51 shots and five goals this season. Senior striker Mario Gomez currently leads the team with 14 shots.
With a 1-3 record, the Dons are also struggling as they have lost their last three games and just lost 3-0 to Cal Poly San Luis Obispo.
San Francisco is trailing Fullerton on the attacking side with 34 shots and three goals.
CSUF have an advantage on Friday night, as they average 10.2 shots per game and one goal per game compared to San Francisco's 8.5 shots per game and 0.75 goals per game.
San Francisco forward Nonso Adimabua will be a challenge for Fullerton as he leads the Dons with 10 shots and two goals.
Dons goaltender Charlie McKay allowed an average of 2.23 goals per game.
The Titans' defense was solid behind junior goalie Andrea Bonavia who recorded 28 saves.
Friday's Titans game will be followed by another on September 19 against the University of San Diego Toreros.
Fullerton hasn't faced San Diego since September 2018, which resulted in a 1-0 overtime win for the Titans at Torero Stadium.
San Diego is currently 1-5. Second-year forward Nicklas Clausen leads the Toreros with 14 shots and three goals. However, it's not just a one-man game for San Diego. Toreros forward Jake Schneider also leads with a total of seven shots and one goal.
The Titans will face the Dons at 7:30 p.m. on September 17 and the Toreros at 5 p.m. on September 19, with both clashes at Titan Stadium.