Mountain View Elementary bids farewell to dear physical education teacher | New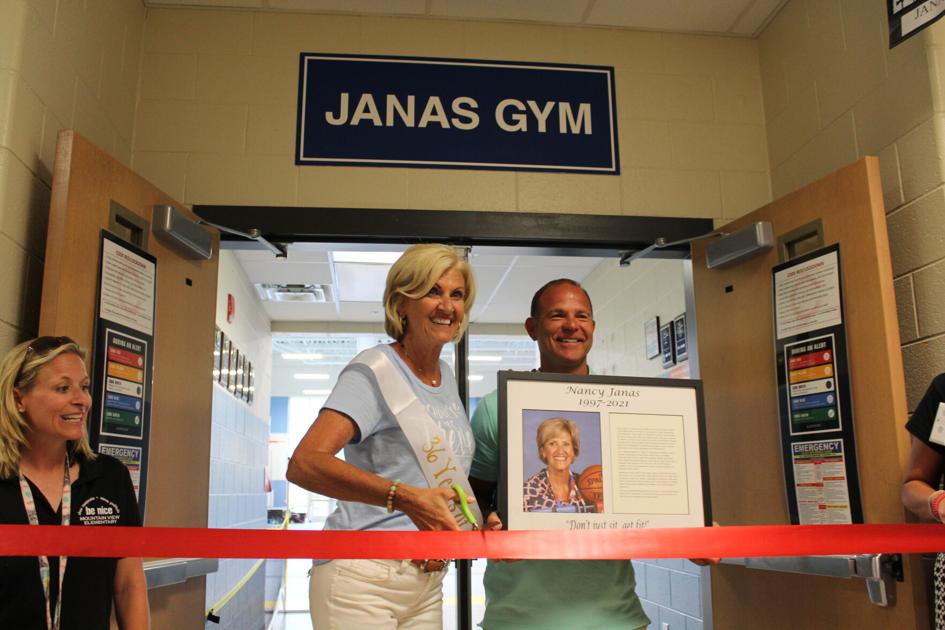 EAST COBB – To close the school year, the former and current teachers and students of Mountain View Elementary came by the dozen to celebrate and say goodbye to Nancy Janas, a physical education teacher, who has 36 years of experience.
Janas, described by Principal Renee Garriss as "an icon" of the school, leaves "huge shoes to fill," Garriss said. That's why Garriss, Janas and his family cut a red ribbon on Wednesday to christen the new Janas Gym in Mountain View.
"Each child felt loved and valued by her," Garriss told MDJ. "Most kids love to go to the gym, but there are always reluctant students who don't like going to the gym because they might not be athletic. And Nancy has always found a way to make them feel accepted and want to go to the gym.
Janas was twice named Cobb County Schools Teacher of the Year and has been heavily involved in the American Heart Association's Jump Rope for Heart fundraising program.
Despite the void Janas leaves behind, her close friend and fellow physical education teacher Carissa Smith will continue to teach. Smith's husband is "like a son" to Janas, having grown up opposite the Janas family. Smith and Janas have taught together for over 12 years.
"She's amazing, really inspiring and positive," Smith said of Janas. "She created this school and gave it the positive influence it needed.
Janas came to her profession out of love for children and sports. She has been teaching physical education in Mountain View for 24 years, long enough to be known to generations of students.
"The other day I was here, and a father came with two of his boys in the back… and (the father) was one of my students," Janas said in an interview.
Janas lives in the community – her own children have attended Mountain View. The athletic prowess was passed down to his son, Stephen, who played baseball at Kennesaw State University, for the Atlanta Braves minor league teams and in the Australian Baseball League. Her daughter, Haley, carries on the family teaching legacy as a teacher at East Cobb Middle.
The last year of teaching in the midst of the pandemic was the biggest professional challenge Janas faced in her career. The school gymnasium was closed, the field day was canceled, and physical education teachers had to teach children in their classrooms, trying to run fitness and games without equipment. The silver lining in this arrangement, however, was getting to know the students on a more personal level, Janas said.
"But the kids were so resilient, they just adjusted and handled the situation well," Janas said. "They were wonderful. They made it easy.
In retirement, Janas hopes to play more tennis, hike, travel, and be generally spontaneous.
"I'm going to wrap a bag and put it by the door, and if someone comes in and opens the door, I jump," she said.
Retirement seems surreal to Janas. But she plans to stay involved in the school.
"I think I'm going to be that stalker on the playground when they come out for recess," Janas joked. "Just waving and saying hello and all that will be me."