Office vacancy rate in San Francisco hits pandemic high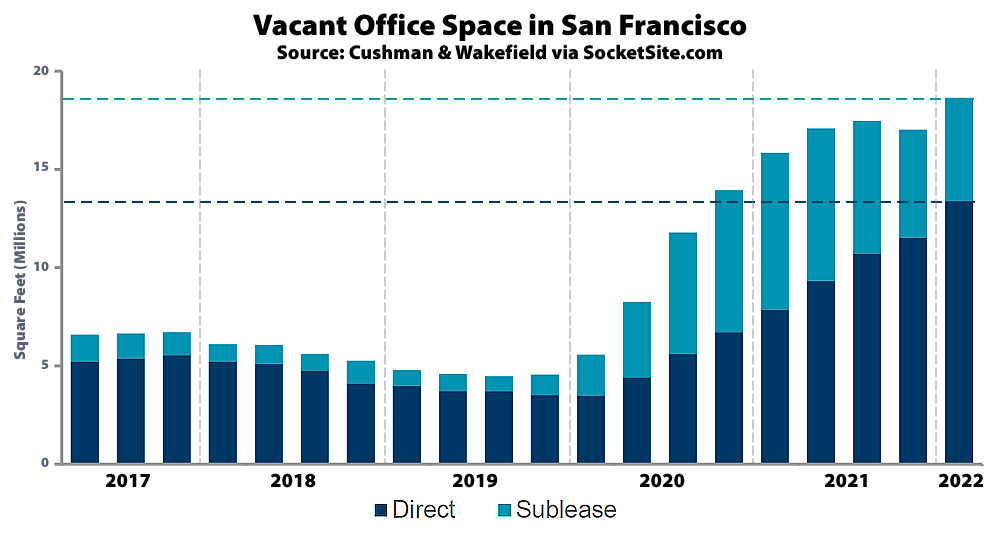 After dipping to just under 20% late last year, San Francisco's effective office vacancy rate climbed back to a pandemic high of 21.7% in the first quarter of 2022, representing 18 .7 million square feet of vacant office space in the city, including 5.3 million square feet of technically leased but vacant space and 13.4 million square feet of unleased space, according to Cushman data & Wakefield.
By comparison, there was less than 5 million square feet of vacant office space in San Francisco before the pandemic with a vacancy rate of 5.7%, compared to a long-term average of around 12%. . And as we pointed out last quarter, foreshadowing the first quarter uptick:
"Despite the decline in the overall vacancy rate at the end of 2021, the amount of unleased office space in San Francisco actually increased, both absolutely and relatively, to 1.3 million square feet. of space that was offered for sublease in the third quarter that has been leased, reoccupied or put back on the market as directly vacant space. And total rental activity actually fell from the third to fourth quarters of last year, with "a scarcity of large transactions", a decline in return-to-office dates (yes, the spike in COVID cases is significant , beyond the increase in hospitalizations and deaths), and less than 1 million square feet of space having been leased, including subleases, for negative net absorption.
And in terms of active demand for the 18.7 million square feet of vacant space, Cushman & Wakefield is currently tracking active needs for 4.9 million square feet, which was down from the fourth quarter of the year. last year and 33.8% below pre-pandemic demand.