PABU IZAKAYA OF MINA GROUP IN SAN FRANCISCO ANNOUNCES NEW HOUSE MANAGEMENT AND NEW LEAD BARTENDER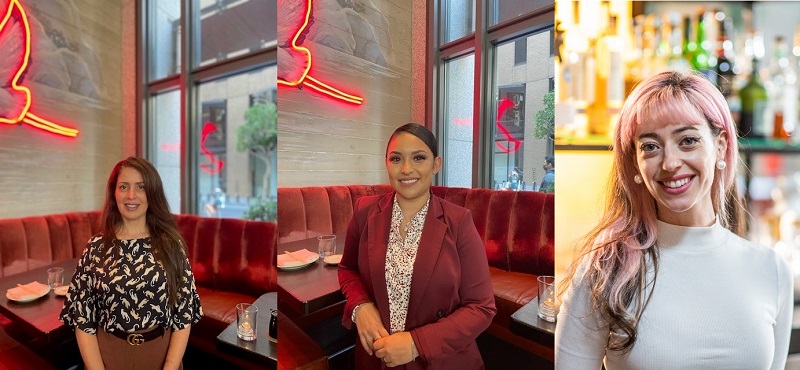 PABU Izakayathe modern take on Traditional Izakaya-Style Meals by Michael Mina and the late Ken Tominaga, announces a stellar team of women serving in leadership positions within the restaurant, including head bartender and executive positions: Farrah Ebrahimi as Executive Director ; Natalie Lichtman as Head Bartender and Yazmin Montes de Oca as restaurant manager. The announcement follows PABU Izakaya's appointment of Keita Tominaga, son of Ken Tominaga, as the restaurant's chef-partner following the death of his father in May 2022.
The new team members reflect the growing number of women in leadership positions in the restaurant and hospitality industry and bring to PABU Izakaya the experience gained within the MINA Group, leading brands in corporate hotels as well as Michelin-starred destinations.
"We are delighted to welcome these three extremely talented women to the PABU Izakaya leadership team," said Chef Michael Mina. "They each bring unique experiences and hospitality backgrounds to our PABU family that will no doubt continue to make the dining experience truly memorable. In a climate where hiring is nearly impossible in our industry, we feel fortunate to make this announcement.
PABU Izakaya is pleased to announce:
Farrah Ebrahimi, Executive Director
Farrah Ebrahimi brings to the PABU Izakaya team over 20 years of leadership experience in the Bay Area food, beverage and hospitality space. Throughout her career, Farrah has worked with high-volume corporate brands including Darden Corporation and Landry's Inc., building her reputation as a leader while creating efficiencies, focusing on controlling the quality, developing managers and making customer satisfaction a top priority.
Prior to joining PABU Izakaya, she served as General Manager of Chart House, San Francisco and Skates by the Bay in Berkeley, where she is most proud of the relationships she cultivated with her teams and the employee retention record that is directly correlated to its strength in people. development.
Natalie Lichtman, head bartender
Natalia Lichtman brings an impressive background as a bartender to the PABU Izakaya team, having worked at some of San Francisco's most renowned bar destinations including Tosca Cafe, Elixir and most recently as Bar Manager at Traveler. at 25 Lusk. She also led the bar team at the Michelin-starred Restaurant Nico, running the restaurant's high-quality bar program which included cocktail development, pairings, staff training and more. During the pandemic, Natalie has focused on sharing her beverage knowledge as a virtual educator and host for Bacchus Wine & Spirits and created her own events to educate attendees on mezcal, bourbon, mulled wine and more.
Natalie has also competed in numerous spirits and bartending competitions over the past few years, winning top honors at the 2018 Slane Irish Whiskey Cocktail Competition and as a 2019 Speed ​​Rack Season 9 Finalist, a cocktail competition. all-female high-speed bartender, and as one of the 20 finalists in the Cognac Connection 2020.
In her new role as Lead Bartender, Natalie will not only manage the restaurant's full bar program, which includes an extensive collection of Japanese whiskey, but will also offer her own list of themed cocktails, a defining feature of the restaurant's bar program.
Yazmin Montes de Oca, restaurant manager
Yazmin Montes de Oca has been part of the MINA Group family since 2013 when she joined the RN74 team as an animator. Interested in food and drink, she took on a role as a food runner to gain more experience on the floor and in the kitchen before taking on a role focused on a higher service style, joining the team at the front desk of the former Michelin-starred Flagship Restaurant, Michael Mina.
Yazmin spent a year in Hawaii, helping the MINA Group open its first Hawaiian restaurant, STRIPSTEAK, before returning to the Bay Area to work on the opening service crew of the former Trailblazer Tavern, where she was eventually promoted to captain. .
During the pandemic, Yazmin has taken the opportunity to continue learning and developing her skills, supporting the operations of Indie Superette, MINA Group's small market and cafe in San Francisco's Marina district. Right before taking the position of restaurant manager at PABU Izakaya, she was part of the opening team of the Estiatorio Ornos San Francisco as a captain.
For more information, visit APBU website.
ABOUT PABU IZAKAYA
Founded by Michael Mina and the late Ken Tominaga of famed Japanese restaurant Hana in Sonoma County, PABU Izakaya offers a modern take on traditional Izakaya-style cuisine. The restaurant is a world-class destination for sashimi, sushi, grilled meats, a modern seasonal cocktail menu and offers an extensive list of sake, wine and Japanese whiskey. PABU offers the finest locally and globally sourced fresh seafood from Japan's famous Toyosu Market and an exclusive selection of A5 Japanese Wagyu. Keita Tominaga, son of Ken Tominaga, was recently announced as PABU Izakaya's new chef-partner.
Located at 101 California Street in San Francisco's Financial District, PABU is open daily for dinner from 4:00 p.m. to 9:00 p.m. Reservations can be made here.